When it comes to website hosting, I highly recommend Namecheap for a variety of reasons, the first being if you're on a budget, and the second if you want fast and realiable hosting. Their hosting prices per year are the lowest in the industry, and they have considerably faster page load times than the average web host for WordPress sites, and they also have a user friendly cPanel interface for managing your website and account. Another tremendous plus is that they offer FREE SSL Certificates, which, in case you aren't aware, tells your visitors that your site (and their data) is secure whether you are collecting email addresses or selling products. This is where I host my websites, and I have also hosted with the two that follow, so I have personal experience with all three.  Click on the image below for more information.
Another good web host is iPage if you're on a budget. Their page load times are not as fast as Namecheap, but you can get started for just $1.99 a month for the first 24 to 36 months, so it's a good place to go if you're setting up your first website and you don't have much money. They also have a user friendly cPanel interface that was redesigned by iPage for simplicity, but when it comes time to renew your hosting it's currently at about $120 per year, which is more than double the cost of Namecheap. This, and the page load times is why I moved.

For another very fast WordPress optimized host I recommend Greengeeks. Their servers are specifically optimized for speed, and fast loading times are important for your visitors as well as search engines and is a Google ranking factor. They also have excellent US based customer service, which is critical if you run into problems.

You can also add a FREE SSL Certificate to your GG hosted website, which is as I said previously highly important if you sell products. And last but far from least, Greengeeks has built in security on their servers that prevent DDOS and other types of hacks so there's no need to add security plugins!

They are considerably more expensive than the previous two, but they are excellent and their customer service is great. For more information or to sign up click on the link below. They do offer a half price sale from time to time, so you may be able to get it for a very reasonable price. And lest I forget, they are a Green web host, meaning that their servers are run entirely on wind energy.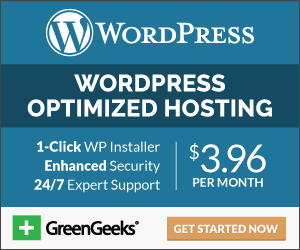 Please note that we receive a commission when you purchase a hosting account through Shambhala Web.
We very much appreciate your business!